We Understand the Special Interest of Collectors

DAYBREAK – CELEBRATE WNY
WGRZ-TV-2
Interview with Kevin O'Neill
October, 2017
RON WEEKES
Proprietor
Ron's odyssey into the fascinating world of autographs began 50 years ago. At age eleven he discovered The Albert Balch Autograph Collection in the Seattle Public Library, where he would spend hours perusing the impressive collection of letters, photos, autographs, and manuscripts. Ron went on to profile Balch in an article Albert Balch: Master Builder and Collector and, over time, decided to follow in Balch's footsteps as a collector.  Along the way, Ron authored articles on collecting for Hobbies Magazine, Avenue M: the Magnificent Mile, and Parade Magazine. 
In 1961 Ron was given the gift of an autograph of (then) Seattle Mayor Gordon Clinton from a family friend, Wing Luke. Luke was the first Asian American to hold public office in the Pacific Northwest. That autograph was followed by one of President Kennedy. By his late teens, Ron was actively buying, selling and trading autographs and evolving into a specialist of material of the Catholic Church (15th through 20th Century). While still in high school, Ron was invited by The Albert A. Lemieux Memorial Library of Seattle University to exhibit his religion collection. He also spoke to many groups about collecting. Ron's collecting interests then gave way to specialization in 20th Century poets and authors, American history makers and leaders in the Arts.
Ron's foray into music performance began at the age of 11. Studying with the talented Seattle soloist-vocal coach Selma Shelley, Ron made occasional radio broadcasts from The First Presbyterian Church of Seattle. In the early 1980's, Ron was an entertainment journalist, publicist, and healthcare public relations professional. He authored scores of celebrity profiles in regional and national newspapers and magazines such as The Chicago Tribune and LA Style and Parade. In the mid-1980's, while researching and writing a book on women, stand-up comics, Ron came to know such laugh-makers as the late Phyllis Diller and Joan Rivers. His many media and celebrity contacts allowed him access to all levels of the entertainment industry. Ron has also written extensively on various aspects of collecting for regional and national newspapers and magazines including The Chicago Tribune, Avenue M: the Miracle Mile, Today In Michiana, and Hobbies Magazine. Ron is a member of several professional collector/dealer societies including the Ephemera Society of America, Manuscript Society and The American Catholic Historical Society.
DONNELL G. MUELLER
Business Development Director
Donnell was first drawn to the arts while taking undergraduate courses in art, dance, theatre and music at State University College at Geneseo, New York. That led to a special interest in contemporary art, pop culture, and Hollywoodania.
Donnell brings a wealth of business acumen to the partnership, having earned graduate degrees in finance and educational administration, and having worked over 25 years in university administration at the senior level. His experience in retail sales also helps him to better understand the needs of clients.
"Autographs make great gifts," observes Donnell. "They're ideal for anniversaries, weddings, graduation, employee-recognition, or any special occasion. Nothing is quite as unique as the gift of history," he emphasizes. Although many autographs have proven to out-perform traditional investment, Donnell said that "people should buy what interests them rather than with investment in mind. We have 45-years of experience in the world of autographs, books and memorabilia. We are happy to assist our clients in acquiring an individual item they may have always wanted, or in building an extensive collection." He added that "there is no charge for this professional consultation."
Our Creative Partners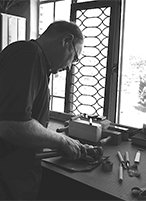 DAVID ASHLEY
dlastudio@aol.com | davidashleystudio.com
David Ashley of David Ashley Studio, Denver – has been a calligrapher, bookbinder and letterpress printer since 1980. He has had the good fortune to produce works for such world leaders as His Holiness Pope John Paul II, The Dalai Lama of Tibet, Desmond Tutu, Lech Walesa and Elie Wiesel. We have commissioned David on several custom-designed portfolio projects. His creative eye and attention to detail are second to none. We recommend David for your next calligraphy project or
specialty binding.
JOSEPH GRIMSHAW
joe@joegrimshawdesign.com | joegrimshawdesign.com
Joe Grimshaw is our go-to professional for much of our print identity: signage, display advertising, logo development — any print identity that advances our business.  Joe is an attentive listener, highly motivated, quick on turn-around, and cost-effective without sacrificing quality.

Joegrimshawdesign has been an invaluable resource for Weekes Autographs. We cannot recommend him too highly.