" …All year round I appreciate the expertise and world-class service of Weekes Autographs… "

KF, Dallas
" You have not only made a wonderful mark on the industry, but the whole art and adventure of collecting! "

Reverend Adrian Hilton
"I am grateful to Ron Weekes for our long and mutually-rewarding collaboration. It is so rare to find a business that, in everything it does, exhibits professionalism and helpfulness. Thanks from Italy. "

Stefano Fortunati – Senior Manager Copernicum –
Libreria Antiquaria Verbantiqua, Florence, Italy
"Some years ago, I was fortunate to enlist Weekes Autographs to authenticate and appraise a large collection of autographs I inherited from my paternal grandfather. Ultimately, I decided to sell many of the autographs. Weekes Autographs was instrumental in accepting their consignment and attracting buyers. Weekes Autographs is dedicated to its trade and has proven to be highly knowledgeable, reliable and patient. They hold themselves to the highest ethical standards. I am truly grateful for the professional manner in which they have conducted themselves in helping me to learn about and dispose of autographs. I recommend Weekes Autographs most enthusiastically and without reservation."

C.A.C. – New York

Rev. Monsignor Francis R. Seymour, KHS
Archivist-Emeritus Archdiocese of Newark
Archivist – Seton Hall University
"Recently, it was my great pleasure to examine the online gallery of Weekes Autographs. I was fascinated to see so many precious items – particularly those of Roman Catholic prelates (autographs, letters, photographs, books and accoutrement). As a personal collector of 60 years, I consider many of the items featured to be very unique, while the prices are well within range. There are numerous documents signed by saints, popes, cardinals and other important clergy. Weekes Autographs is an excellent resource for
the beginning or established collector. Best wishes in acquiring new clients and more
online visitors."

Dr. Manfred Kierein – Vienna, Austria
Dr. Kierein has written or co-authored several books on Catholic prelates. Among his books are: Purpurrote Weihnachten: Die Gluckwunsche der Kardinale an Kardinal Konig; Catholic Hierarchy in China Since MCCCVII; and Voices From Ecclesia Militans in Czecoslovakia.
"…You have made purchasing a wonderful experience. I am grateful for your knowledge, expertise and guidance. I also appreciate your patience, care and concern in all of our transactions. What a joy to have found Weekes Autographs. Here's to many years to come! Un caluroso abrazo…"

ELN, Ph.D. – El Monte, California
FROM THE VATICAN LIBRARY
Monsignor Cesare Pasini – Prefect
Vatican City July 2014
"I wish to thank you very much for the letter from Jacopo Ferretti to Gabriele Laureani you have donated to the Vatican Library. Your precious gift is very important for us, since Laureani had a significative role in the life of the Library during the period 1831-49 (firstly as Secondo Custode, from 1831-38; then as Primo Custode, from 1838-49). Therefore, this letter constitutes an important document for the history of the Library that surely will be highly appreciated by our scholars and readers. Thank you with all my gratitude."
RECOGNIZING NEW YORK STATE ASSEMBLYMAN SAM HOYT
In recognition of Sam Hoyt's two-decades of dedicated public service as New York State Assemblyman and Majority Whip, Weekes Autographs recently presented him with a Mickey Mantle autograph display. The custom-designed piece features a signed Mantle "action shot" that has been professionally matted with a Tops #10 trading card and New York Yankees emblem. The ensemble is enhanced by a hand-applied pinstripe jersey-motif matboard, museum glass and a complementary blue wood frame.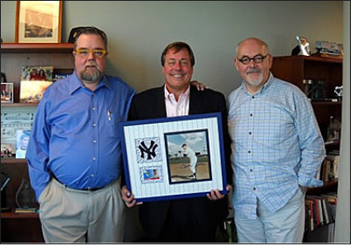 NYS Assemblyman Sam Hoyt with Donnell and Ron

Comedian/satirist Mark Russell with
WNED president J. Michael Collins
"Sam's passion for public service has been evident throughout his career," observes Donnell G. Mueller, Business Development Director for Weekes Autographs. "He has been untiring in his support of many important causes that have positively impacted the lives of Western New Yorkers."
Adds Ron Weekes, "There's no doubt that Sam's presence in the political arena will be missed, while his leadership and vision are certain to continue in his new post with the Empire Economic Development Corporation."  Recently, New York Governor Andrew Cuomo appointed Hoyt to serve as regional senior vice president of the Empire Economic Development Corporation.
Hoyt began his career on the staff of the late Senator Daniel Patrick Moynihan and with the Buffalo Bisons Baseball as marketing and promotions manager.  "Whenever we'd run into Sam I could count on him to ask if I had any signed baseball cards," says Ron with a smile.  "I gave up reminding him that we seldom deal in sports memorabilia but never forgot his comment.  What could make a better gift than a genuine autograph of 'the Mick'?" adds Ron.
WEEKES AUTOGRAPHS was privileged to be commissioned by Western New York Public Broadcasting to create a custom autograph display of Gilbert & Sullivan. The presentation was made to comedian-political satirist Mark Russell on his 20th anniversary with Public Television. (Left to Right: Mark Russell; Michael Collins, WNED-TV president – retired).

Our firm has been the subject of print and electronic media features. We have exhibited material in university libraries. It has been our privilege to serve numerous institutions and organizations among which are: IMG Artists LLC, New York; The Shaw Festival, Ontario; Sibley Music Library of the Rochester Eastman School of Music; Western New York Public Broadcasting; University at Buffalo; The National Museum of Law Enforcement, Wash, DC., and Carmelite Library of Whitefriars Hall, Wash, DC.
We would be pleased to quote a special autograph presentation piece for your corporate clients. With thousands of items in inventory, we can select and design a tasteful, autograph treasure certain to please the most discriminating.