Our inaugural bulletin. My journey into philography, more commonly known as autograph collecting…
Our inaugural bulletin. My journey into philography, more commonly known as autograph collecting, began in 1961. It started with the gift of a signed business card of the Mayor of Seattle. A family friend, City Councilman Wing Luke, obtained the card for me. Soon thereafter I received from him the autograph of President Kennedy. I was hooked.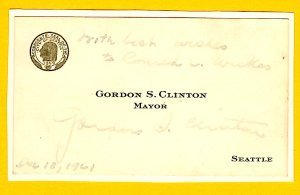 My first autograph, 1961, the Mayor of Seattle (click to enlarge)
This semi-occasional blog is dedicated to my friend, the late Wing Luke. He was the first Asian-American elected to public office on the westcoast. Luke died tragically in a plane crash at the age of 40. Had he lived, I might have had the privilege of addressing him as Governor Luke. You are invited to visit the Wing Luke Asian Museum online and listen to a short presentation on this great man. Mr. Luke had a tremendous impact upon me. www.wingluke.org/about-us/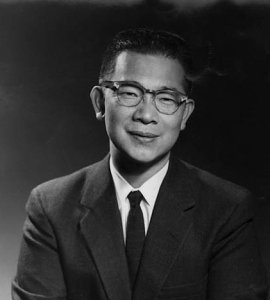 For over four decades it has been my privilege to meet and learn from many reputable, knowledgeable autograph dealers. I have formed lasting friendships with clients and fellow collectors. All things considered, it has been a tremendously rewarding experience to collect autographs. When speaking with parents and young people, I do not hesitate to recommend autograph collecting for its many rewards, the least of which is learning how to construct a letter (a dying art form to be sure).
Along the way, I've learned many lessons about autographs – all instructive, some painful. It took me years to learn about forgeries, autograph collecting trends and how to properly conserve autographs. As more and more collectors turn to autographs as a hobby, or even form of investment, it occurred to me that I might share some of my experiences with other collectors. Out of this quest – to educate and advance the hobby – this little blog has been launched. In subsequent issues I hope to touch upon, among other topics: paper and inks, market trends and values, collection preservation, forgeries, and weave a tale or two. If you have a collecting anecdote please share it with me. Your comments are always welcome and much appreciated.
Forgeries and secretarial signatures. This material floods the marketplace. Buyer beware. Did you know that in the late 1920's, most photographs and letters of Albert Schweitzer were signed by his longtime secretary? The same may be said for US presidential material from Eisenhower forward. It has even been alleged that executive orders and proclamations have been signed with the mechanical Autopen. JFK employed 14 secretaries to sign for him and inscription templates were designed to personalize photographs.
John F. Kennedy – a White House litho-print card (click to enlarge)
Eisenhower – WWII secretarial signature while Chief of Staff (click to enlarge)
FDR – secretarial card signed as NY governor (click to enlarge)
Detecting the Bogus from the Genuine. Most dealers tend to limit their specialization to one or two areas and avoid those in which they have little or no experience. Knowledgeable dealers examine handwriting, (some are schooled in graphoanalysis – the science of handwriting); they look at ink, paper used, watermarks, typography, and compare known (proven) examples of similar material. They also keep abreast of the market and problem areas such as replevin.
Recently, as an example, we obtained what was alleged to be a postcard handwritten and signed by the late Pope John Paul II in 1980 during a visit to Germany. After consultation with several experts familiar with the handwriting of the saintly pontiff, it was revealed that the "autographed postcard" was, in fact, a poor forgery. Apart from the structure of the handwriting, was the use of a broad-nibbed italic pen (such an instrument was never used by the pope).
Prime Minister Edward Heath (autopen 1978) (click to enlarge)
One problem area for the untrained eye is litho-print material. It appears on documents and photographs. Unless it is examined under intense magnification, it is not readily apparent that it is printed rather than authentically-signed. Two examples are (left to right) the Charles DeGaulle card bearing what appears to be a genuine handwritten message. It lacks a salutation and date and, under magnification, the ink is "flat" a red flag of print rather than genuine handwriting. To the right, a postcard bearing what appears to be a note written and signed by the late Ildefonso Cardinal Schuster of Milan. The postcard to the right fooled an Italian dealer. To the knowledgeable dealer, it readily apparent that the lengthy message to the left is a print from an original. The postcard is addressed and dated in another hand.
Finally, a word about secretarial signatures. They abound for celebrities in most fields (Hollywood being at the top of the list). It is widely known among dealers that nearly 95% of all autograph mail requests to the late Sammy Davis, Jr. were secretarial, although he was an accommodating signer in-person. One helpful online reference site is www.isitreal.com, created by German dealer Markus Brandes.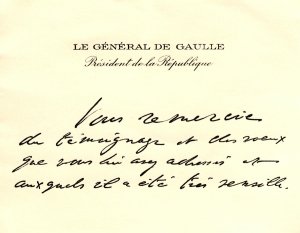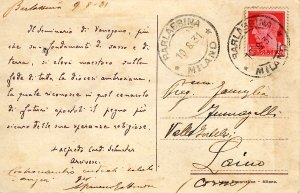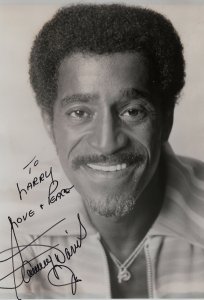 Collectors are urged to study the market. Become familiar with the area of your collecting interest. Research is available online and in many library reference works. Several autograph dealers have published excellent reference books, many of which now are out of print but may be found through booksellers. Among these are: From the President's PenMovie Star Autographs of the Golden Era, 1930-60; (Susan and Steven Raab, 1994, privately published); 1001 Vintage Hollywood Autographs by William and Yolanda Butts, Main Street Fine Books (privately published) and Profiles In History, Catalogue 23, a spiral bound reference work, that offers an outstanding assemblage of Hollywood autograph examples.
Bette Davis – secretarial signature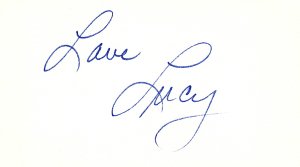 Lucille Ball – a common secretarial signature
Other recommended reading. Esteemed dealer Ken Rendell authored an informative book: History Comes to Life: Collecting Historical Letters and Documents; University of Oklahoma Press, 1995. In 1977 the Pierpont Morgan Library published a trade paperback: American Literary Autographs: from Washington Irving to Henry James. Finally, the late dealer and author Thomas F. Madigan published a highly entertaining book: Word Shadows of the Great: the Lure of Autograph Collecting; Frederick A. Stokes Publishing Co., 1930. If it can even be found, author-signed copies of this work command several hundred dollars. Many dealers such as David Lowenherz, Joseph Rubinfine, Kenneth Rendell and others publish the occasional catalogue. These are excellent references.
Author Sheila Lowe, (MetroBooks 2001) offers a fascinating work on handwriting styles and analysis of the world's famous in Handwriting of the Famous and Infamous.
Some Conservation Tips. Whether you buy autographs from a dealer or at auction, many come with pencil and other notations on them. Some are from previous owners or dealers. Markings may include prices, dates and details of provenance. Unless these markings greatly detract from the autograph, they should not be removed. If written in pencil, make a photocopy first BEFORE you erase the notations. This information often proves helpful for appraisal and authentication, and provenance is a factor in value.
Document Protectors. Unless the manufacturer states "archival safe" or the folders are made of Mylar (polyester) never store autographs and photographs in sleeves. We have come across many rare autographs that have been irreparably damaged. Over time, chemical compounds in the plastic can erode and breakdown transferring residue to autographs. Autographs should also be stored flat or in reinforced folders to safeguard against wrinkling and other damage. Sunlight can wreck havoc on autographs and silver-gelatin photographs. If your autographs are matted and framed, hang them on inner walls, away from direct sunlight and any heat source. It is wise to occasionally rotate autographs on display so that they are not continuously subjected to sunlight. More valuable matted and framed autographs should be protected behind Plexiglas UF-3 or tinted conservation glass.
Showbiz and Entertainment. This continues to be a popular area of collecting. Costumes, movie props, vintage posters and signed photographs can command high prices at auction. Take the Beatles. Individual autographs run $1,500 for John, $2,000 for Paul, $600 for George and $400-700 for Ringo. If, on the other hand, you have a photograph, album leaf or record jacket signed by the Fab Four, the price can soar to over $15,000. Again, buyer beware. The more popular the celebrity, the greater the chance of forgery. Celebrities known solely by their last name are always highly sought by collectors: Garbo, Gable, Monroe, Hepburn, Bogart. One should expect to pay a premium for authentic material of these showbiz legends.
Celebrated Autograph Collectors. Composer Jerome Kern was an avid collector and amassed a magnificent collection in his lifetime. Other famous collections include President Kennedy, Malcolm Forbes, Franklin D. Roosevelt. The late George W. Cardinal Mundelein, longtime archbishop of Chicago, was a collector of documents and letters of popes and saints. He left an impressive collection to St. Mary of the Lake Seminary in Mundelein, Illinois. Sci-fi author Ray Bradbury was named Collector of the Year in 2003 by the Universal Autograph Collector's Club. The Chicago hotel retailer, Marshall Field, also collected autographs. Be on the alert. One of his ne'do well nephews decided to enhance his fortune by placing forged autographs in books owned by his uncle! More recently, NYC aspiring authoress Lee Israel forged over 1,000 letters of contemporary literary greats between 1990-2000. Eventually her greed led to exposure. She had the temerity to publish a book on her exploits (more later).