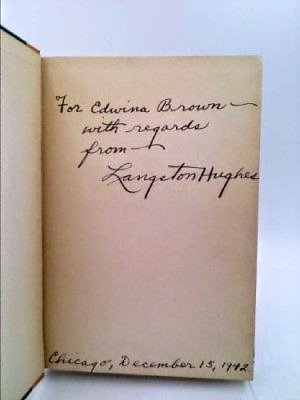 WHAT PRICE A HUMAN LIFE?
HUGHES, Langston (1901-67)
Price: $950.00
NOTA BENE: we are selling this uncommon signed First Edition at a significant $550 discount. Why? A group of US and Canadian friends seek to raise $12,000 in order to help a Russian citizen immigrate and begin the process of political asylum. We have fully vetted this person. He has been forced underground, living in a remote wooded location in a two room shack. He fears for his life and has been the object of death threats. If you wish to join us in this most worthy cause, a GoFundMe account will be created shortly. More information on that will appear in our NEWS section. Thank you for your generosity.
American poet, social activist, novelist, playwright, and columnist. He was one of the earliest innovators of the then-new literary art form called jazz poetry. Hughes is best known as a leader of the Harlem Renaissance in New York City. He famously wrote about the period when"the negro was in vogue", which was later paraphrased as "when Harlem was in vogue".
"Shakespeare in Harlem" Alfred A. Knopf, NY, 1942. 8vo. Orange and black cloth sans dust jacket, 123 pages. First Edition. Features a signed and dated dedication on the first free endpaper: To Edwina Brown, with regards from Langston Hughes, Chicago, December 15, 1942. This is Hughes first collection of poems since 1932 and rather uncommon war-time production. Boards and spine "lovingly" worn but spine in intact. Interior toned but fresh.
Some bookdealers are selling a similar copy of this book, with dustjacket, for upwards of $2,450. Without the dust jacket it is being offered for as much as $1,800. Ours is well within realistic price range.