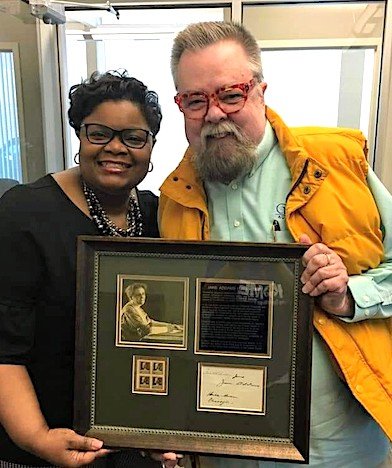 HOME Buffalo – 56th Anniversary Gala & Auction
WEEKES AUTOGRAPHS has long been an advocate of access to fair housing. We are enthusiastic supporters of Housing Opportunities Made Equal of Buffalo. On Friday, 17 May, at Shea's Seneca, HOME will hold its annual gala dinner, live/silent auction.
We were pleased to donate several pieces for the auction: a signed first edition book by Dr. Henry Louis Gates, Jr., entitled "Colored People"; an autograph display piece of Congresswoman and presidential candidate Shirley Chisholm; and a stunning autograph display piece of Jane Addams, the first woman to be awarded the Noble Peace Prize. Addams was widely regarded as the founder of the social work movement in America and was the founder of Hull House in Chicago.
Pictured holding the Addams display piece are (left to right):  M. DeAnna Eason, HOME executive director; and Ron Weekes, partner in Weekes Autographs. The display features a vintage autograph of Jane Addams, watercolor giclee image, plate of mint US commemorative stamps, and an informative biographical brass plate. The ensemble is encased under museum conservation glass and a high-end, gilt wood frame.